Geographic Indications (GI), Protected Designation of Origins (PDO) and Protected Geographical Indications (PGI) protect the name of a product, which is from a specific region and follow a particular traditional production process. Product names registered as PDO are those that have the strongest links to the place in which they are made. PGI emphasizes the relationship between the specific geographic region and the name of the product, where a particular quality, reputation or other characteristic is essentially attributable to its geographical origin.
In the case of wine, this means that at least 85% of the grapes used have to come exclusively from the geographical area where the wine is actually made.
In northeastern Spain, Garnacha Blanca can predominately be found in the regions of Calatayud, Campo de Borja, Cariñena and Somontano but the Terra Alta PDO has the treasure trove with 1400 hectares of old vine Garnacha Blanca under vine. That amounts to one-third of the vines grown worldwide and growing as new plantings are on the rise.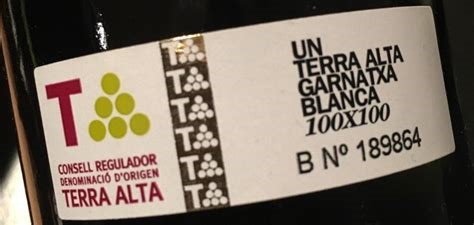 Throughout these European regions it's not uncommon to find wines made from extremely low-yielding, sixty-year old vines thriving in what amounts to fossilized sand dunes. Recently designated as the Terra Alta 100% Garnatxa Blanca PDO classification, these wines hold up well to oak aging and deliver orchard fruit, herbs and spices with plenty of texture and creamy mouthfeel.
White and gris Garnacha/Grenache are varieties native to Spain that dwell happily in Roussillon where they are blended to make both dry and sweet wine styles. When designated expressly for the dry wines of PDO Côtes du Roussillon and Collioure, they are picked early to retain aromas and freshness that would otherwise be lost to the sun.
In the dry white wines of Côtes du Roussillon, Grenache Blanc often shares the limelight with Macabeu or Tourbat in a blend where the dominant grape cannot exceed 80%.  Grenache Blanc contributes alcohol and plushness to the wines with sweet floral aromas and flavors of white tree fruits like apple and pear, green citrus, stone fruit and dried green herbs. Macabeu contributes acidity and Tourbat which looks quite like Grenache Gris in color offers distinctive smoky and secondary aromas.
In Collioure, Grenache Gris which has been referred to Grenache Blanc's "pink-skinned cousin" small amounts of mono-varietal wine are produced from old vines that grow on schist soils within sight of the Mediterranean Sea. The resulting wines have volume, good minerality, the coolness of fennel and dryness that doesn't exceed 4 g/l residual sugar.
The role of these varieties has traditionally been as the star players in the white and ambré vins doux naturel wines of Rivesaltes AOP. Ambré wines mature in open wooden vats for two years and achieve the color of liquid amber with aromas and flavors characterized by roasted nuts, candied citrus zest, raisins and toffee. With an additional three years of aging that often extends to decades, the wines take on Hors d'Age and Rancio designations for their evolved oxidative characters. AOP Maury and tawny-colored Banyuls known as "traditionnels" can also be designated this way.
Discover how European Quality Certification contribute to Grenache /Garnacha Blanc and Gris success story
About Deborah Parker Wong
Deborah Parker Wong, DWSET  is an opinion-leading communicator, journalist and author who specializes in the wine and spirits industries. As Global Wine Editor for SOMM Journal, The Tasting Panel and Clever Rootmagazines, she writes monthly industry columns and reports on the global wine and spirits industries with an emphasis on technology and trends. She is the co author of "1000 Great Everyday Wines" and contributes thought-provoking content to industry trade publications including the former Vineyard and Winery Management Magazine, Spirited and Drinks Business which you will find posted to her archive sitewww.deborahparkerwong.com.  
In addition to her work as a journalist, Deborah is an adjunct professor in the wine studies programs at Santa Rosa Junior College, Napa Valley College and Cabrillo College and offers private certification courses as an approved program provider for the Wine & Spirit Education Trust.
She presents tastings and educational seminars to trade and consumer audiences and judges several wine competitions each year. She holds the Wine and Spirits Education Trust Diploma, is a member of the London-based Circle of Wine Writers and the California Teachers' Association. Prior to her career as a journalist, Deborah co-directed The Medialink Group, a public relations and strategic marketing agency serving high-technology and luxury consumer goods clients.